PRESENTATION VIDEO

s
---
---
February 16th 2020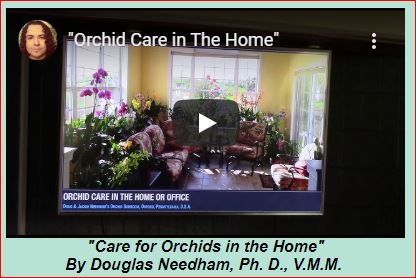 "This video has been removed as requested by Douglas Needham to protect his intellectual property"

---
---
January 19th 2020

How to Flask Orchid Seeds (green pod method)
by Jay Simon
---
---
August 18th 2019

"Growing on a Jungle Log & Alternative Potting Methods"



"Phragmipedium Quality Flowers & Culture" parts 1 and 2
---
---


October 21st 2018

On the first video Manuel Aybar talks about Taiwan Orchid Show and Breeding Trends.
Second video starts with our business meeting followed by Manny's presentation: "Dendrobium. A look at the Phalaenanthe Section"



---
---
September 16th 2018
"Catasetinae Species and their Cultivation" Business meeting & "Cycnoches, Mormodes, Catasetum Recent Trends" Part 1
September Speaker: Fred Clarke from "Sunset Valley Orchids"


---
---
March 18th 2018
** Videos from business meeting, presentation and Show and Tell
(camera ran out of battery almost at the end of our meeting. Oops!)
"Growing Equitant Oncidiiums - Tolumnias" Part 1
By Bill Parker



---
---
February 18th 2018

**These 2 videos are 'almost' the whole meeting, including business meeting and presentation**
Panel Discussion. Miscellaneous Cultural Concerns. Q & A


---
---
October 15th 2017
Sarah Pratt from Kansas
"Five Reasons I Hate Orchids" & "A Very Incomplete Overview of Intergeneric Orchids"
---
---



September 17th 2017
Dr. Dotty Woodson from D&B Orchids.



"Don't Throw Away that Orchid"







"Growing Paphiopedilums"
This is your new webpage. You can delete this and replace it with whatever you want.